This original post was written Feb 24, 2020 and was updated on Dec 1, 2023.
After a long winter, many homeowners are looking for relief from the costs of their high heating bill. An excellent alternative from those rising costs can be found by converting your boiler into a natural gas boiler unit.
Benefits of Converting to a Natural Gas Boiler
The cost of converting from a boiler to a natural gas boiler varies from home to home– specifically depending on the internal conversion costs (e.g. the cost of having work done on your property) and the capital construction costs (e.g. a fixed expense the utility company charges).
However , the amount of money you'll save monthly will more than make up for the initial costs of converting your homes boiler from oil to gas, resulting in gas bills that will continually remain lower in cost (vs. the continually rising rates in oil). Another benefit of converting from oil to gas is the lessened impact on the environment, as natural gas is the cleanest fossil fuel and has fewer impurities than any of the others.
The Increasing Demand for Natural Gas

In Westchester Country, the demand for natural gas is quickly outpacing conEdison's supply; specifically because of the construction preference for natural gas in new buildings and other construction projects. 
For current, existing ConEd customers, this will not be a problem. But this will limit their ability to serve new customers– especially on the coldest days, when the demand for natural gas is at a peak.
In the interim, conEdison's solution to address the supply-demand imbalance is to help existing customers reduce the amount of gas they are currently using, while also pursuing non-pipeline solutions that will reduce the reliance on fossil fuels through innovative, clean-energy technologies.
About the Westchester Natural Gas Moratorium
According to ConEd, as of March 15, 2019, "We will no longer be accepting applications for new natural gas connections in most of our Westchester service area until we can align demand with available supply." 
Update – December 2023, ConEdison has lifted the gas moratorium, so those eager to switch from oil to natural gas may pursue that change. 
However, they are still taking new applications for when natural gas becomes available – simply email your contact info and equipment information to them. Please note: customers will have to meet specific timelines based on their request type in order to be considered.
ConEd claims that these steps will allow them to, "continue to safely and reliably serve existing natural gas customers throughout Westchester County".
What This Means for You & Your Home
Please see the map below of the affected area in Westchester County: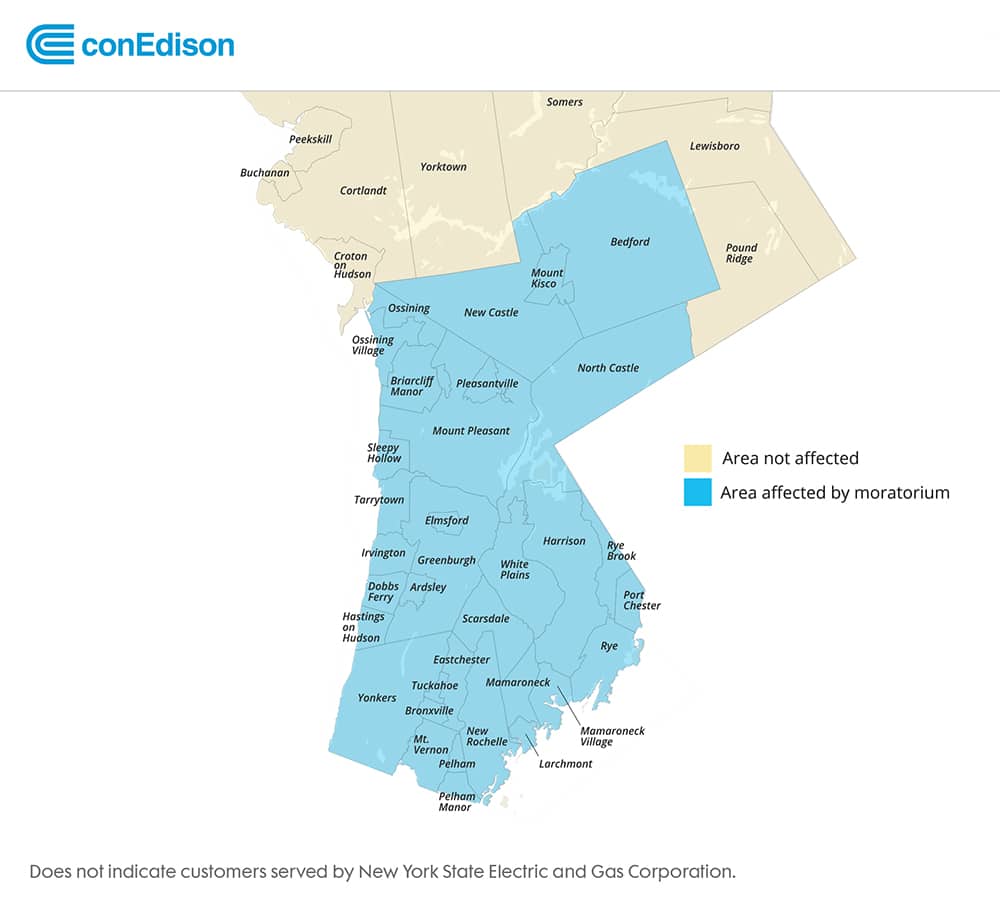 You Can Still Connect to Natural Gas in Westchester If You:
Are seeking interruptible service

Would like to connect to a natural gas-fueled emergency generator

Are a small business customer in the food and beverage industry

Are in the northernmost areas of Westchester County

Are an existing natural gas customer that is planning renovations
If you have questions about whether ConEd natural gas services are available in your area, it is best to contact them directly.
Other Alternatives to Natural Gas
Although it is uncertain when the Westcheter natural gas moratorium will be lifted, there are other alternatives to natural gas.
Going Electric
Instead of using appliances and equipment that use natural gas, try finding units that run on electricity instead. Some common appliances that run on electricity include water heaters, clothes dryers, and ductless mini-splits.
Heating-and-Cooling Alternatives
There are also heating-and-cooling equipment options to make your home more efficient and comfortable, year-round. Possible heating and cooling options include air and ground-source pumps. These pumps move existing heated air from the ground in one place to another place using electric, or renewable, power. And never fear, in the summer these pumps can also move that heat from inside of the building to the outside of the building, keeping you cool even on the hottest of days!
Flotechs Plumbing & Heating
Flotechs Plumbing and Heating operate in Westchester County and serve both residential and commercial customers. We offer free estimates, a 1-year warranty on our workmanship and we can assist you with your manufacturers' warranties as well. Our crews work 24 hours a day, 7 days a week in large cities like Yonkers and White Plains. 
Let us help you discover the benefits of converting oil to gas, or identity other options that might be available for your home. Not only can we identify ways to help your wallet, but also those options that are safer and more sustainable for the environment.